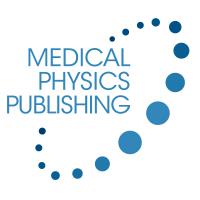 Medical Physics Publishing
Medical Physics Publishing (MPP) was founded in 1985 by Dr. John Cameron, professor emeritus of the University of Wisconsin-Madison and a visionary in the medical physics field. MPP is a non-profit organization whose purpose is to provide affordable books in medical physics and related fields. Their publications are written by and for physicists, residents, radiologists, and technologists, including the best-selling textbooks The Physics & Technology of Radiation Therapy, and Physics of the Body. MPP's specific objective for their publications is primarily educational and scientific. In 1999, MPP became the official distributor and publisher of books and reports for The American Association of Physicists in Medicine (AAPM). Among their bestsellers are Optimum Overall Treatment in Radiation Oncology, and Physics of the Body, Second Edition.
There were no matches for: 'medical-physics-publishing'. Please retry your your search.