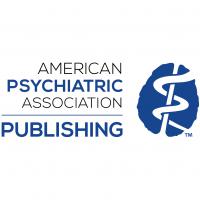 American Psychiatric Association Publishing
Founded in 1981, American Psychiatric Association Publishing is the world's premier publisher of books, journals, and multimedia on psychiatry, mental health and behavioural science. It offers authoritative, up-to-date and affordable information geared toward psychiatrists, other mental health professionals, psychiatric residents, medical students and the general public. A division of the American Psychiatric Association, it's purpose is twofold: to serve as the distributor of publications of the Association and to publish books independent of the policies and procedures of the American Psychiatric Association. APA Publishing's most well-known publication is the Diagnostic and Statistical Manual of Mental Disorders (DSM-5®), used by clinicians and researchers worldwide to diagnose and classify mental disorders. DSM-5® is an essential resource for professionals in a wide array of contexts, including psychiatrists and other physicians, psychologists, social workers, nurses, occupation and rehabilitation therapists, and counsellors.
There were no matches for: 'american-psychiatric-association-publishing'. Please retry your your search.